System monitoring dashboard
Realtime CPU, Memory, Network, Disk cards:
uptime
memory pressure (active, cached, wired, free)
CPU, RAM, disk usage
battery cycles, health, capacity
incoming & outgoing traffic speed
Battery information
Detailed information on your battery's current state:
cycles*
health*
capacity**
time remaining**
Network activity monitoring
What's being sent and received, including a bandwidth:
network map
external WAN IP
internal LAN IP address
router IP address
incoming & outgoing traffic speed
country detection based on external ip****
Bluetooth information
Battery charge for supported devices:
AirPods
Magic Trackpad
Magic Mouse
+ more third party devices
Sensors and Fans data
Detailed information on your Mac's CPU, GPU sensors:
40+ temperature sensors supported*
fan speeds*
disk IO*
temperature notifications*
Widgets
iStatistica in your Notification Center:
macOS Big Sur+ widgets
legacy Today widget
Notifications
Full-featured notifications for:
CPU
memory
sensors
+ Run terminal command or a workflow actions
Monitors in menu bar
iStatistica in your menu bar:
Web access and remote API
Access Mac's information remotely:
mobile-friendly web interface
JSON-based REST API
IP filter
---
All-in-one System Monitoring Dashboard
You can use a light or dark appearance for iStatistica, or automatically adjust the appearance from light to dark during the day.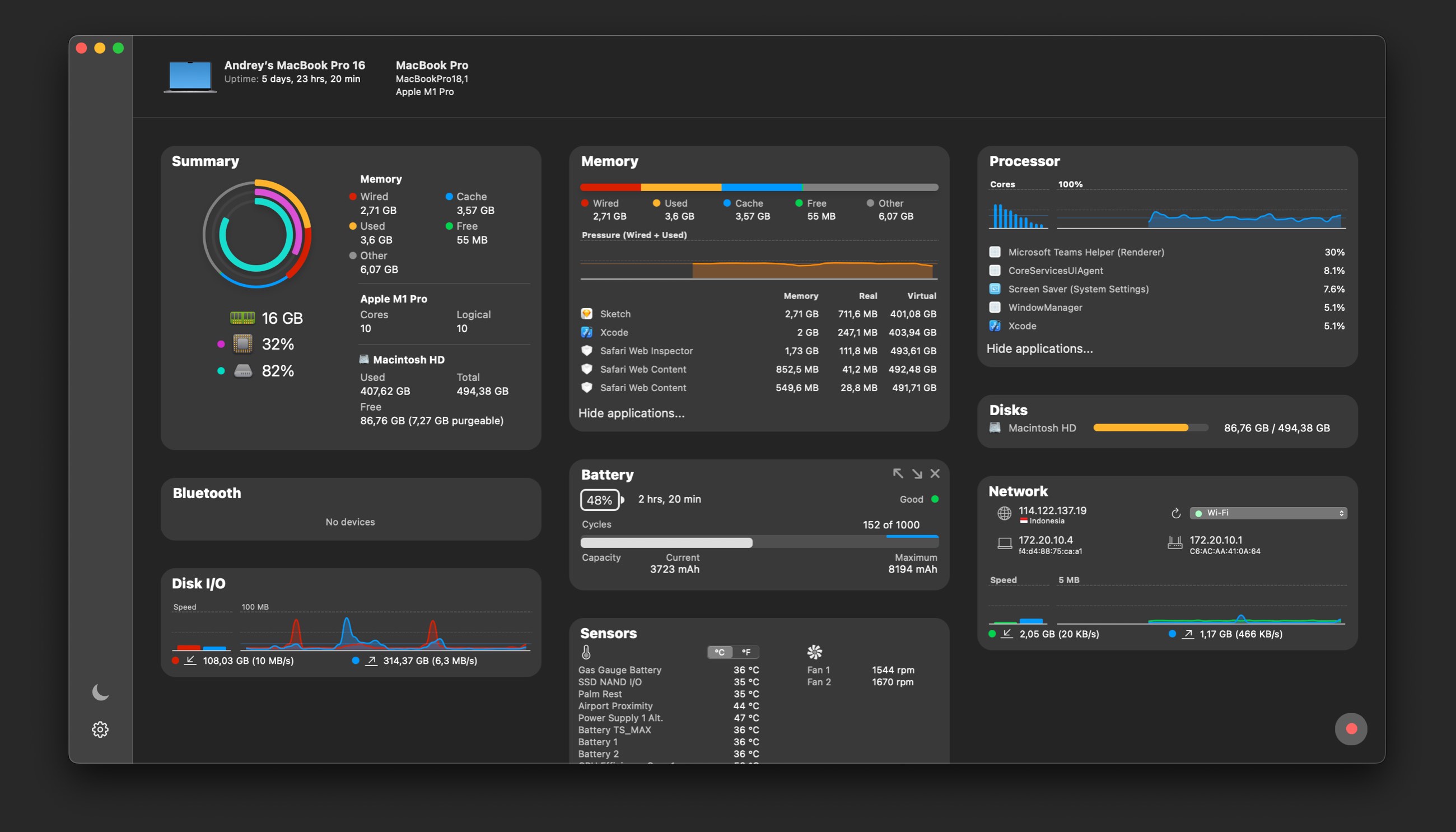 Notifications and Alerts
Notifications, alerts, and actions based on CPU, memory, and sensors data: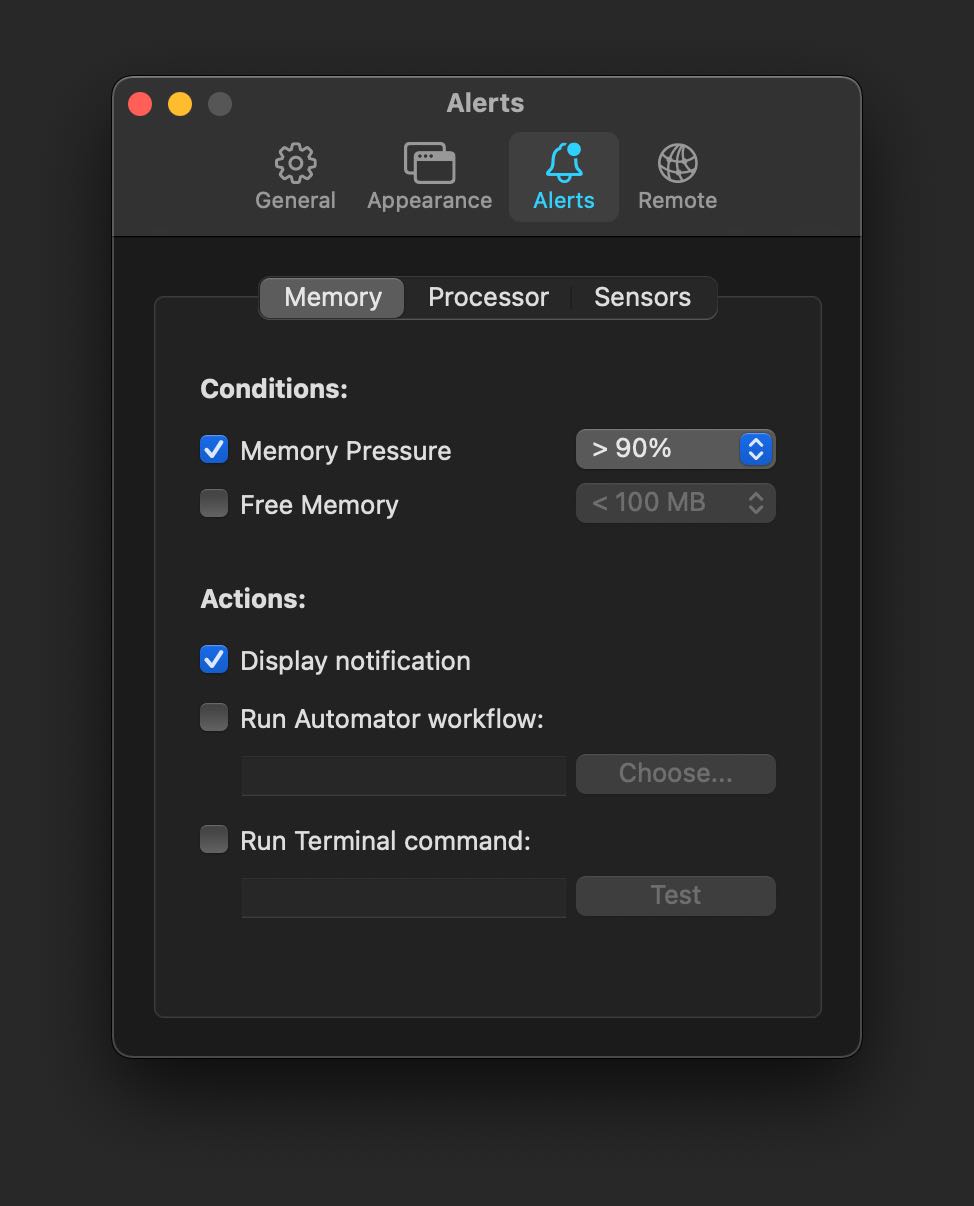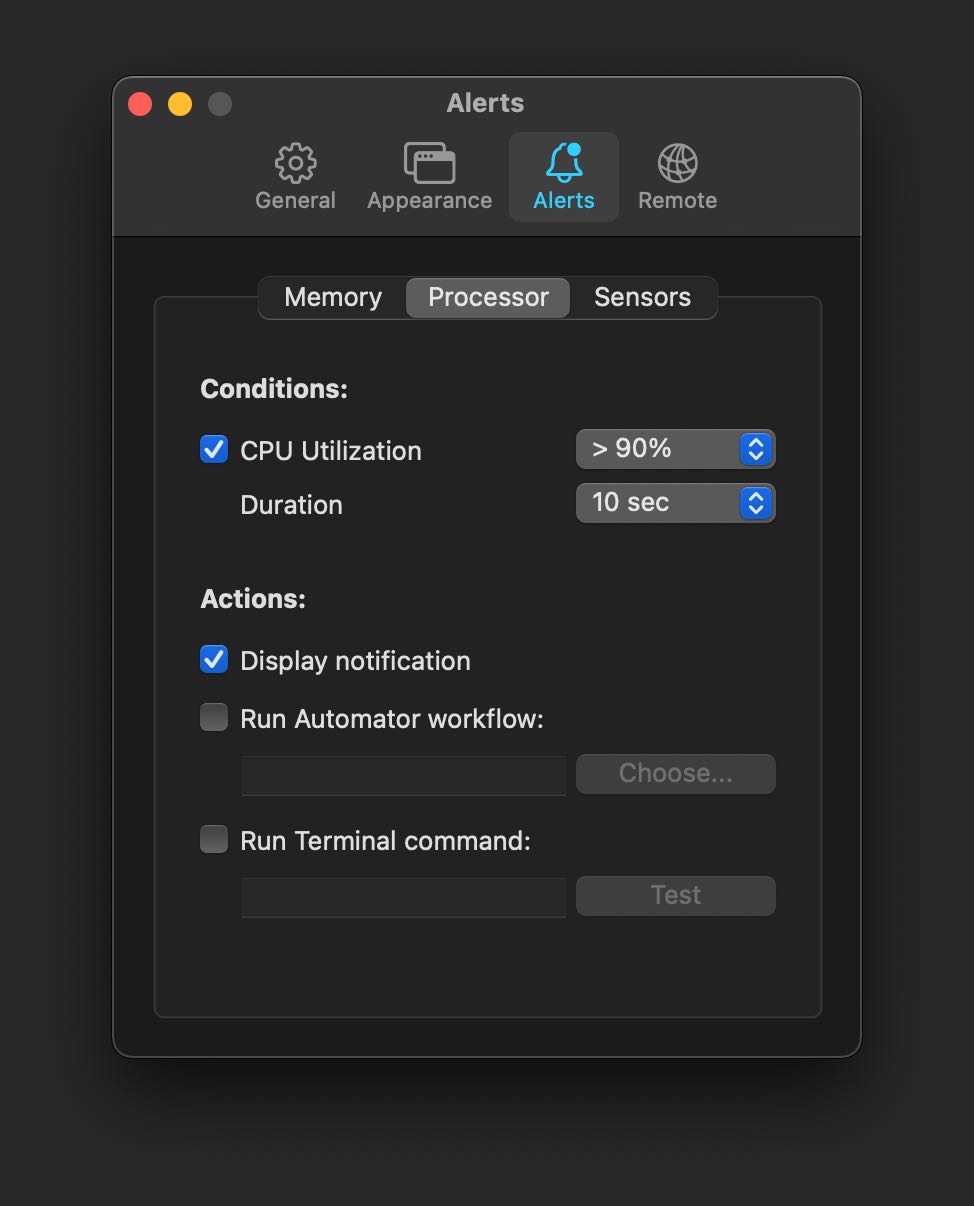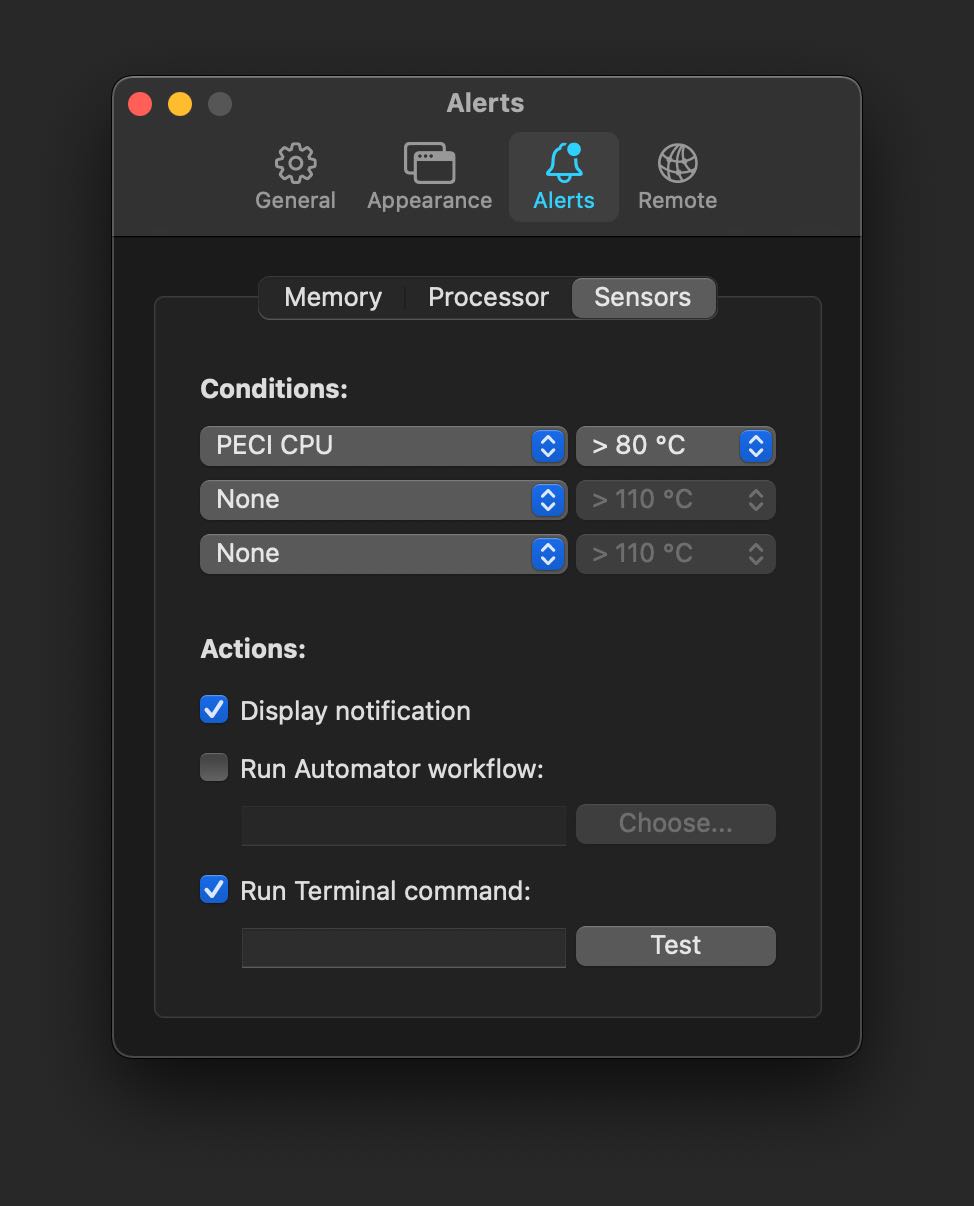 Ratings and Reviews
4.4
based on 100 AppStore reviews
System Requirements
macOS 10.11 or higher
Universal Binary
Native Apple Silicon and Intel based Macs support
---
iStatistica
iStatistica Pro
Ultimate monitoring pack
(iStatistica + Netler + DiskSight)
System monitoring dashboard
Battery information
Network activity monitoring
Bluetooth information
Sensors and Fans data
Today Widget
Big Sur+ Widgets
Notifications (CPU, memory, sensors)
Notifications (network, disk, GPU)
-
-
Unified monitor in menu bar
Advanced, customizable monitors in menu bar
-
-
Web access and remote API
+ passkey support
GPU monitoring
-
-
Applications + processes info
applications only
applications only
Disk visualization
-
Activity monitor
-
-
Network monitor
-
Sensors dashboard
-
-
Price
$5.99
$9.99
$7.99
iStatistica Sensors Monitoring Plug-in
iStatistica Sensors Plug-in enables temperature and fan speeds monitoring. Keep an eye on CPU, GPU, memory temperature, observe fan speeds (rpm) and get hdd disk IO statistics with mac system monitor. Sensors Plug-in helps iStatistica being the most advanced system monitor on the App Store.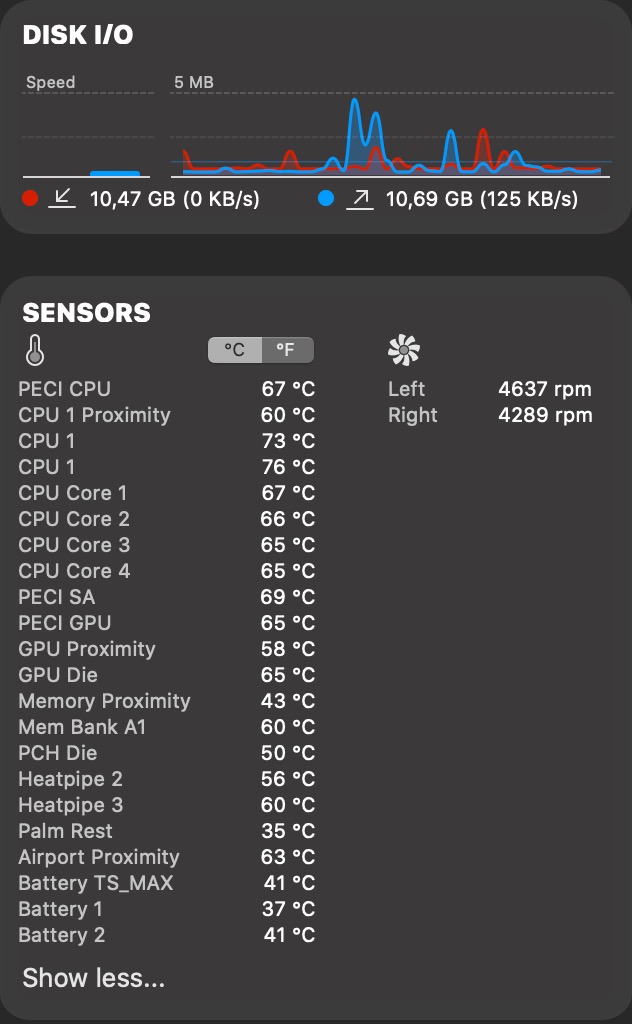 iStatistica Sensors Plug-in Installation
Check that you have iStatistica Pro installed
Open downloaded iStatisticaSensors.dmg image and copy iStatistica Sensors to your Applications folder.
Launch iStatistica Sensors application from the Launchpad and turn "Enable I/O Plug-in" switch on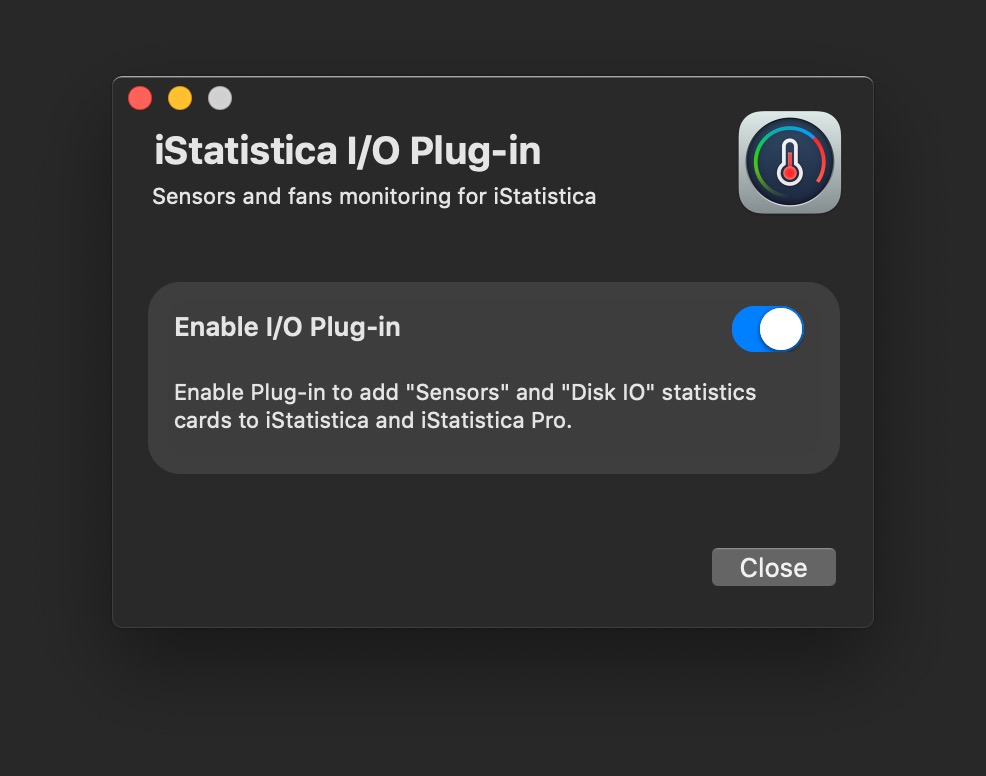 * - ejecting drives, battery cycles and health are available in iStatistica for Mac only.
** - battery capacity and remaining time information are based on public technical specifications of devices running iOS. Mac version provides full battery capacity and cycles information including depreciation.
*** - sensors plugin is required for temperature, fan speeds and disk IO monitoring.
**** - Imagetasks own web services are used for ip/country detection. No personal data is being used or logged.
---